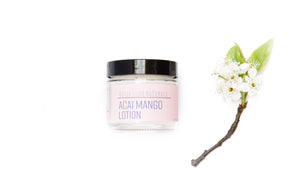 Acai Mango Lotion
Sale price Price $26.00 Regular price
The acai mango lotion is a rich and creamy facial moisturizer that is perfect for all skin types. This water-based product absorbs perfectly, and includes the all powerful acai and mango extracts, murumuru butter, rosemary and orange essential oils. 

The Acai Mango Lotion is a daytime moisturizer that pairs perfect with the Amazon Antioxidant treatment at night for improved skin tone and texture. This product gives a non-oily healthy glow that can be used under makeup.
There is no artificial colors or fragrances that irritate sensitive skin, not designed for those with allergies to rosemary, or citrus. 
What is it For
All skin types. Smooths rough, dry skin and decreases breakouts. Designed especially for normal to dry skin but is a great night treatment for oily skin.
How to Use
Apply a small amount to cleansed skin day or night. If using topical treatments, this works best as a second layer on top of these products.

 Ingredients
Organic shea Butter Butter, Mango Butter, Rice Bran Oil, Organic Murumuru Butter, Stearic Acid, Vegetable Emulsifier, organic jojoba Oil, Organic Rosehip Oil, Distilled water, organic Acai Oil, organic mango oil, Vitamin E, organic rosemary, organic sweet orange, Paraben Free Preservative.
Nice Daily Moisturizer
I use this daily as a moisturizer. A little goes a long way. Makes my skin feel soft and smooth.
SIlky all day
I have dry skin and I love how this absorbs quickly, yet feels silky all day. Also, the scent is light and refreshing, and not overpowering!
The smell and care is excellent
In Love!!
I love the açaí mango lotion!! I purchased this lotion before and it is a vital part in my skin care regimen! Thank you so much ❤️