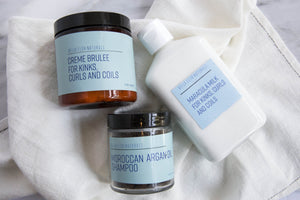 Kinks Curls & Coils Haircare Bundle
Sale price Price $48.00 Regular price
Bundle and Save! Treat your coils to a start to finish process of our amazing haircare line.
Step One
Enjoy the moisturizing lather of the Moroccan Argan Oil Shampoo.
Step Two
Apply the Maracuja Milk for Kinks Curls and Coils in sections in the shower, detangle, and leave in for 10-20 mins. Rinse.
Step Three
Once out of the shower, rake/comb the Maracuja Milk through your coils in sections for added moisture.
Step Four
Use our world famous Creme Brulee for Kinks Curls and Coils for a lasting wash and go curly style or for shiny defined twist/twist out.

Please Note! The Maracuja Milk is Back in the Bundle!

About The Moroccan Argan Oil Shampoo
Made of pure and natural argan oil, black olive paste, brazil nut oil, honey and essential oils. A thick gel-like cleanser with an herbal scent. Although this has a high-lather is it very moisturizing and perfect for all hair types, especially dry, colored and naturally curly hair. One of the only shampoos that you'll find that both deep cleanses and moisturizes at the same time. No artificial colors or fragrances and a little goes a long way.
Sulfate free.
4oz
Maracuja Milk for Kinks Curls & Coils
Creamy water based rinse out/leave-in that provides excellent "slip" as a detangler and everyday product.
As with all of our handmade products, we use 100% high quality natural/organic ingredients from the Amazon and beyond. No mineral oil, petroleum, sulphates, parabens, silicones or other cheap fillers.
Use
Apply to clean wet, dry or damp hair. detangle and let air dry. This product can be used as is, or paired with the thick and rich Creme Brulee for Kinks Curls and Coils to provide hold and nourishment for twists and braids. Works for ALL curly kinky, coily, hair types.
Ingredients
Organic Aloe Vera, Sweet Almond Oil, vegetable based emulsifier, palm stearic acid, vegetable glycerine, vitamin E, passion fruit oil, avacado oil, organic jojoba oil, organic shea butter, Xanthum, Letichen, willow bark extract, neem, brazil nut oil, carbomer 980, rosemary essential oil, Triethanolamine (TEA) Tetrasodium EDTA
8oz
Creme Brulee for Kinks Curls & Coils
Our Creme Brulee heavy cream has  ingredients hand selected for beautiful healthy hair. The formula starts with an infusion of healing herbs such as rosemary, burdock and Marshmallow root. Murumuru Butter, Aloe butter, Shea Butter, Coconut Oil and Grapeseed oil add shine, moisture and protection.
In total, an infusion of 13 premium natural ingredients create a light cream texture that is perfect for all natural hair types. When used on wet or dry hair, the Creme Brulee can actually change the texture of your hair from straw to silk making it soft and manageable.
Ingredients
Organic Shea Butter, Organic Coconut Oil, Organic Aloe Vera, Distilled Water, Murumuru Butter, Nettle, Burdock, Rosemary, Marshmallow Root, Grapeseed Oil, Vegetable Based Emulsifier, Stearic Acid, Xanthum, Paraben Free Preservative,  Fragrance (Optional).8oz
Smells delicious
All the hair care products smells so good and it makes my hair soft. I am still trying to achieve the curl pattern that I want. You only need to use a small amount. I really like the way my hair smells.
Natural Hair
Love, love, love this product for my natural short hair. It's keeps my moisturized between wash days and smells wonderful!!
Unclear about Substitute for Maracuja Milk
One a repeat customer and found that neither the image nor the description was clear enough about the substitute for the Maracuja Milk. If I had known I wouldn't have purchased the bundle. Otherwise the products are good.
First impressions
I used the products tonight for the first time and I must say I am very pleased. The Moroccan Argan Oil shampoo left my hair feeling clean and moisturized. The Maracuja Milk made detangling easy and also added so much moisture. The Creme Brûlée smells good enough to eat and the definition gorgeous. It took a while to get these products but with these results they are keepers!
The best my hair has looked and felt
I have fine, dry, 2c curly hair that is dyed blond. I have been having trouble with knotting in my hair and spending a long time brushing it. With these products and with each wash my hair gets softer; less dry and straw-like. I can tell the shampoo not only washes but moisturizes it. I use less product than directed due to my fine hair type and it seems to work for me. I still am playing around with amounts to use. All three products are worth it for any curly hair type.