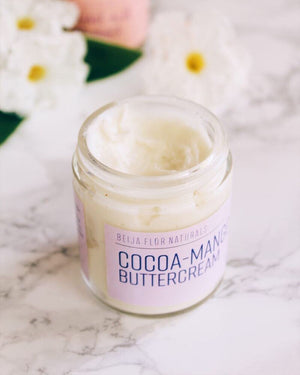 Cocoa-Mango Buttercream
Sale price Price $22.00 Regular price
Thick, moisturizing yet water based product for fast absorption. Our buttercream is gentle enough for babies bottoms, penetrating for dry cracked man hands, and a moisturizing treat for dry kinky to curly hair.
Raw organic cocoa and mango butters are blended with aloe vera extracts and other essential goodies until they produce fluffy white clouds of moisture that is guaranteed to soften, smooth and leave you glowing. It does not irritate sensitive or problematic skin. Softens the texture of dry hair when used as a leave in conditioner/moisturizer.
What Is It For

Full body moisturizer that can be used as a leave-in hair moisturizer or a super rich body butter/lotion.

How To Use For Hair 
Apply in sections to clean damp or wet hair working the product through with a comb or fingers.  Use alone or on top of a leave-in moisturizer such as the Maracuja Milk for Kinks Curls and Coils.

How to Use for Skin 
Use as a traditional body butter or hand and foot cream. Best when applied to damp skin after bath/shower.
Ingredients
Organic Aloe Vera, Organic Shea Butter, Sterilized Water,  Organic Cocoa Butter, Mango Butter, Jojoba Oil, Coconut Oil, Apricot Kernel Oil, Vegetable Emulsifiers, Vitamin E, Paraben Free Preservative

Fragrance
The fragrance of the cocoa mango cream is like a morning cup of Joe. It's very creamy and it glides on the skin. I have sinus issues but I still use it on my legs and arms. Great product!
Cocoa-Mango Buttercream
Absolutely amazing! I chose to use it for my hair because it smells more like a hair product than a body product (may be a personal preference). However, it is so smooth and it is very hydrating for my natural hair (in between 4a-4b texture). It gives moisture as well as a nice shine after applying to damp hair. Love this product and I will be purchasing again!
As a white guy in his mid-20s who recently discovered skincare, I'm delighted to say this stuff works great and smells great! It's so easy now, it really makes me wonder why I didn't figure it all out earlier. Next step: phase out the graphic tees
Head to Toe Hydrated
This is my first time using the Buttercream and I love it. Just enough of a scent that's pleasant and not too strong or sweet. My hair and skin are super soft and hydrated.
Love this product!
I've been using this buttercream for over a year. I use it one my face and hands. Both have seriously never looked better! I've never taken good care of my skin and love that at 53, it still can improve a lot. thank you! much love and gratitude!