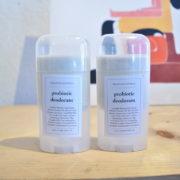 Probiotic Deododorant
Sale price Price $12.00 Regular price $13.00
The probiotic deodorant uses a unique all natural method to eliminate under arm funk, wetness without irritating or leaving a residue. It actually WORKS and smells of botanical goodness. Strong enough for a man, but perfect for sensitive skin.
Ingredients
 Organic Coconut Oil, Organic Shea & Cocoa Butters, Organic Arrowroot, Candelilla Wax, Zinc Oxide (non-nano), Sodium Bicarbonate, Bentonite Clay, Vitamin E Oil, Live Acidophilus Probiotic Culture, Essential Oils of Lavender, Frankincense & Geranium
Vegan, Aluminum, Paraben, Phthalate, Triclosan & Propylene Glycol FREE and contain only Natural Preservatives. 3oz
Works hard, smells fantastic, awesome for sensitive skin.
I've been using this for a few weeks and can say it's the best deodorant I've used. This is great for sensitive skin - as I've aged my armpits have become very sensitive and many deodorants cause me to break out in a rash. Not with BeijaFlorNaturals. It's genuinely a great deodorizer; I wake up the next day and still do not smell - I was used to having to apply deodorant multiple times a day. It has a soft natural/lavender scent (not too floral or overpowering) and applies easily. Has not left marks/stains in the armpits of clothing. Love everything about it!
Never have I ever had a stick of deodorant work so well
Seriously, this is by far the best natural deodorant experience I have ever had. It expands my natural body odor and has folks in my life acting real different to me after a hard day of work;)
Soft but not effective
Not effective, but I love this brand so much. If you have trouble with deodorant normally, this is probably not for you.
First natural deodorant
This is my first time using a natural deodorant. I have always been nervous to try. I am loving this deodorant. It even holds up when exercising. I really like that the smell. I am not a fan of the flowery scents you often find.
Didn't work for us
We really wanted this deodorant to work for us but both my partner and I did not find it at all effective. I used it on a day where I went on a short walk in mild temperatures and she tried it on a day she was home. We both experienced quite a bit of body odor even though we didn't do much and don't experience it often. It's almost as if it just didn't mix well with our body chemistry. I was encouraged by the reviews, and I love other products by this company, but everything can't be for everyone. I gave two stars for great ingredients.