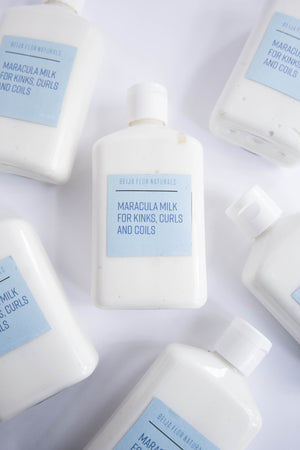 Maracuja Milk for Kinks Curls and Coils
Sale price Price $20.00 Regular price
*Now Back in stock!

Creamy, water based leave-in that delivers the ultimate softness and shine for wash and go styles. This product provides excellent "slip" as an in-shower detangler or everyday leave-in.
As with all of our handmade products, we use 100% high quality natural/organic ingredients from the Amazon and beyond. No mineral oil, petroleum, sulphates, parabens, silicones or other cheap fillers.
What Is It
Moisturizing leave-in conditioner for all kinky, curly, coily, wavy and dry hair types. Can also be used as a rinse-out co-wash conditioner. 
Use
 Apply to clean wet, dry or damp hair. detangle and let air dry. This product can be used as is, or paired with the thick and rich Creme Brulee for Kinks Curls and Coils to provide hold and nourishment for twists and braids. Works for ALL curly kinky, coily, wavy, dry and color treated hair types.
Ingredients
 Organic Aloe Vera, Sweet Almond Oil, vegetable based emulsifier, palm stearic acid, vegetable glycerine, vitamin E, passion fruit oil, avacado oil, organic jojoba oil, organic shea butter, Xanthum, Letichen, willow bark extract, neem, brazil nut oil, carbomer 980, rosemary essential oil, Triethanolamine (TEA) Tetrasodium EDTA
Love love love
These products are amazing, love how curly my hair gets after using it, really makes my curls bounce
Maracuja Milk
I love this product, it produces the curl pattern I like. Glad this product is now available. Took it with me on a flight and forgot the size requirement. TSA confiscated. I was so upset to lose my nearly full bottle. Couldn't wait to get home and order 2 bottles! I hope it's always going to be available.
This is it!
Since I went silver at the end of last year I've been struggling to find a leave in that will truly moisturize my hair and help my wild silvers calm some. I've tried SO many products but this did it ALL. It has enough slip and staying power. I just received it today but I'm ordering more now because shipping took a long time, not their fault but USPS and the mess they are in. Try this, you'll love it. Btw my hair is 3B/C and low to mid porosity. Thank you for making this product and please make a bigger size!
Amazing!
Maracuja Milk is truly amazing! it really tames my curls and is very hydrating. highly recommend! Oh, and it smells so good!
Best curl products I've ever used
This and the Creme Brulee are the best curl products I've ever used. This is a daily product even when I heat style. My hair has never looked healthier! And Beija products smell AMAZING!