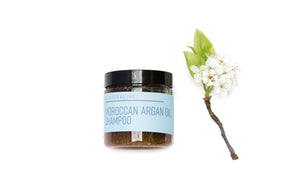 Moroccan Argan Oil Shampoo
Sale price Price $20.00 Regular price
Our 100% natural beldi shampoo is made of pure and natural argan oil, black olive paste, honey, essential oils and Brazil nut oil as our own signature twist. Beldi soap/shampoo is widely used in traditional Moroccan Bath establishments known as hammams, where the black herbal paste is applied head to toe as a detoxifying/moisturizing cleansing mask.
Our Moroccan Argan Oil Shampoo is a thick gel-like cleanser with an herbal scent. Although it has a high-lather is it very moisturizing and perfect for all hair types, especially dry and naturally curly hair. One of the only shampoos that you'll find that both deep cleanses and moisturizes at the same time. No artificial colors or fragrances and a little goes a long way.
What Is It
Shampoo for individuals of all hair types. Not recommended for use if hair is excessively oily or has buildup from silicone or other synthetic ingredients.
How to Use
Use a small amount to shampoo hair, focusing on the scalp. Sulfate free. 4oz
Ingredients
Soaponified Olive Oil, Argan Oil, Castor Oil, Babassu Oil, Coconut Oil, Bee Pollen Infusion, Brazil Nut Oil, Peppermint, Sweet Orange, Honey.
Brilliant product
Beautiful smell also substantially increases hair growth
My new discovery!
I love how soft it leaves my hair. I can't wait to try the hair cream
saved my hair and restored my curl pattern
I was ready to chop off a good 6 inches from the bottom of my hair that had stopped spiraling like the rest of my curls and had a not-so-cute cotton candy frizz look happening. Happened upon Beija Flor a few days before my hair appointment, used this incredible formula and it completely nourished, deep conditioned and restored my curl pattern down to the tips! I was ecstatic as it takes a long time for my hair to grow and i was sad so much of it had to go. Was able to get less than a 1/2 inch trim and my curls and tips are healthier than ever. My hair is pretty fine so i use this shampoo mostly on the bottoms and tips every couple of weeks. Paired with the Curl Souffle which smells heavenly and makes curls pop and shine. Love the ultra clean ingredients and really thoughtful formulas. xxo
A little dab will do it
Shampoo really lathers with just a couple of small dabs on thoroughly wet hair Have only had the occasion to use once and so far no complaints ...I do notice that my hair remains soft after drying
Best Shampoo Ever!
I absolutely love the Moroccan Argan Oil Shampoo! I love the natural ingredients, smell and how easily it lathers. You only need a small amount of this stuff and it cleans my hair so well and makes my hair so soft! I'm so impressed! Thanks again, Beija Flora Naturals!