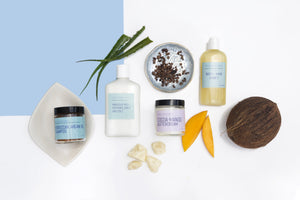 5 Piece Natural Hair Everything Bundle
Sale price Price $95.00 Regular price $112.00
All that you need for amazingly healthy hair. Designed for all kinky, coily, curly, and dry hair types. Our products are made from natural botanical ingredients and are residue free. SHIPS FREE!
CLEANSE - Step One
 Moroccan Argan Oil Shampoo: Unique shampoo paste that gives an amazing lather. Does not dry out hair and can even aid in the detangling process. 100% natural ingredients include Brazil nut oil, babassu oil and honey. 
4oz 



CONDITIONER - STEP TWO/THREE
Creamy water based conditioner that can be used as a conditioner after washing or as a leave-in that detangles and provides "slip". Instantly moisturizes and shines hair.
8oz

STYLE/CURL CREAM: STEP FOUR
Our world famous curl cream that can be used to moisturize and style. Gives hold, shine and lasting moisture to wash and go styles and protective styles alike. For lighter curls, a small amount provides frizz control. 
8oz 

Dual action Moisturizer
Cocoa-Mango Buttercream: Aloe Vera, all natural oils, and butters soften and moisturize all dry hair types. This product can also be used as a body moisturizer. 
4oz


SCALP TREATMENT 
Licorice Root Elixir: Herbal serum that heals and nourishes dry, itchy scalp, and those who suffer from scalp psoriasis or chemical burns. Ingredients such as Rosemary, Neem and Peach Kernel Oil promote health hair growth. 
4oz 




CREME BRULEE FOR KINKS, CURLS & COILS
THE CREAM LEAVES MY HAIR MOIST AND GLOSSY....IT DOES NOT GET GUMMY OR STICKY...MY SCALP ITCHES LESS...LOVE IT!