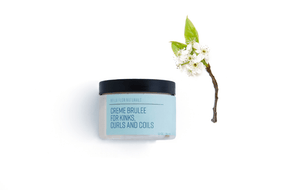 Creme Brulee for Kinks Curls and Coils
Sale price Price $20.00 Regular price
Our world famous Creme Brulee is an everyday curl cream with ingredients hand selected for beautiful healthy hair. The formula starts with an infusion of healing herbs such as rosemary, burdock and Marshmallow root. Murumuru Butter, Aloe butter, Shea Butter, Coconut Oil and Grapeseed oil add shine, moisture and protection.

In total, an infusion of 13 premium natural ingredients create a light cream texture that is perfect for all natural hair types. When used on wet or dry hair, the Creme Brulee can actually change the texture of your hair from straw to silk making it soft and manageable.
What is it for
All textured hair types. This product moisturizes and creates a slight hold for everything from wash and go curly styles to twists/twist outs and protective styles. Works for all textured hair types from slightly wavy to kinky-curly, depending on the amount used. For looser curls that are easily weighed down, we recommend the Maracuja Milk for Kinks Curls and Coils.


How to Use 
Can be used as a stand alone product or under a moisturizing conditioner such as the Maracuja Milk for Kinks Curls and Coils. Take a small amount and apply to wet or damp hair. For thicker hair types, break hair into sections. Comb or finger coil in product to bring out curls for wash and go styles. This is also a premium product to be used for protective styles (twists, twist outs, braids, bantu knots).
Ingredients
Organic Shea Butter, Organic Coconut Oil, Organic Aloe Vera, Distilled Water, Murumuru Butter, Nettle, Burdock, Rosemary, Marshmellow Root, Grapeseed Oil, Vegetable Based Emulsifier, Stearic Acid, Xanthum, Paraben Free Preservative, Fragrance (Optional). 8oz
Product is wonderful
Love the way it feels on my hair and it smells lovely
AMAZING product
Smells so good, keeps curls soft and smooth and curly. An absolute miracle! I've been using it for over a year and it keeps my hair so healthy. Thanks for making this!!!
Amazing Product with Not-So-Great Customer Service
Can't say enough about how lovely Creme Brûlée is - it's moisturizing, smells so good ( like gingerbread cookies) and gives my 4c fine hair just enough hold. However … I ordered my products on Sep 30 and didn't receive them until Oct 20. I emailed customer service twice to see what was happening with my delivery, and they never responded. I was completely ignored while I waited for almost a month for my order. It's a conundrum when you love a product but can't rely on the vendor. I'm on the fence about ordering anything from them in the future.
Love this stuff!!
Keeps my hair moisturized, use it when I do double twist.
Love it !!
Excellent Moisturizer
This cream smells so good and has great moisture and slip. I used it for a twist out but I think it would also do great with a wash n go. Can't wait to try it! I have been using it with the hair and body honey which is also an excellent product.